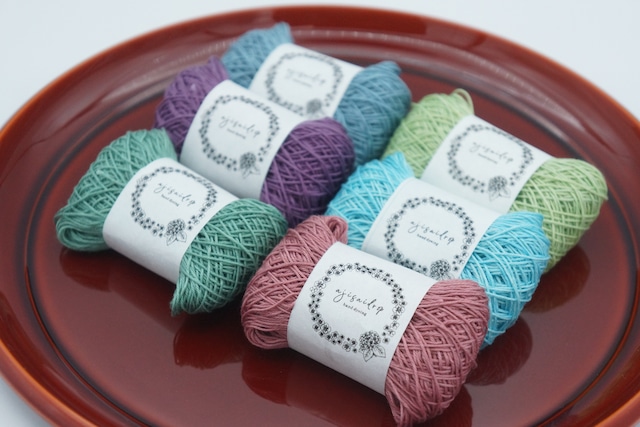 源氏物語ー若き源氏ー
Japan domestic shipping fees for purchases over ¥6,000 will be free.
Shipping fee is not included. More information.
源氏物語をモチーフに染めるシリーズ第七弾。
今月は若き日の光源氏のイメージで染めた糸たちです。
物語が進む前に、ここまでの源氏のイメージを色にしてみようと思いました。
まだ幼く若い源氏。恋に恋する日々。
そんなイメージから、高貴さを忘れず、若い印象を青色系で表現しました。

20/4 コーマ シルケット加工の糸 6色

刺し子、こぎん刺し、ダーニング、てまり、刺繍など、幅広くお使い頂ける綿糸です。



----------------
セット販売のため一巻きあたりをお安くしての6巻セットです。
糸の長さは70メートル程度、
20/3コーマ、シルケット加工の糸、
ラメ糸は10/2(20/4と20/3 の中間程度の太さ)です。

大切に染めていますが、手染めなので色ムラがあったり、糸の継ぎ目がある場合があります。
濃い色は色落ちすることが可能性としてございます。

また、染める際の枷により色の違いが見られます。
手染め、手仕事ゆえですが、ご理解いただける方にお求めいただけますと幸いです。

//////////////////
The seventh in a series that uses the Tale of Genji as a motif.
This month's threads are dyed in the image of Hikaru Genji when he was young.
Before the story progresses, I decided to colorize the image of Genji so far.
Genji is still young and young. The days of falling in love.
From such an image, I expressed a young impression with blue color without forgetting nobility.
It is a cotton thread that can be used for a wide range of purposes such as sashiko, kogin embroidery, darning, temari, and embroidery.
Add to Like via app
Reviews

(793)

Shipping method / fee

Payment method