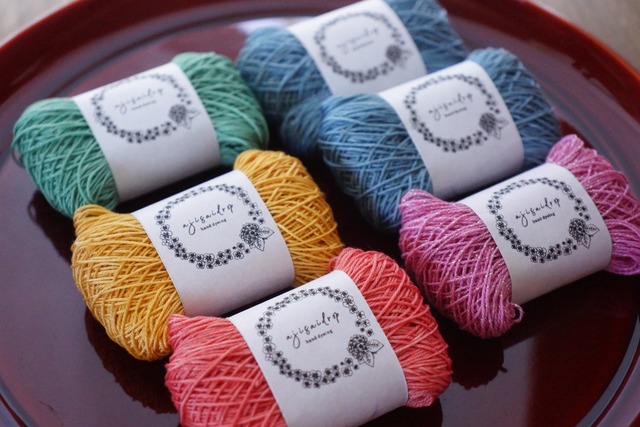 20/4 和の色セット vol.2
SOLD OUT
Japan domestic shipping fees for purchases over ¥6,000 will be free.
Shipping fee is not included. More information.
日本の色、和の色。
そんなイメージで染めました。
先月に引き続き第二弾です。

20/4ですから、初心者さんにもおすすめの太さです。

20/4 コーマシルケット加工糸 6巻
刺し子、こぎん刺し、ダーニング、てまり、刺繍など、幅広くお使い頂ける綿糸です。
/////
Japanese color set
It is a set of good old Japanese colors.

----------------
セット販売のため一巻きあたりをお安くしての6巻セットです。
糸の長さは70メートル程度、
20/3コーマ、シルケット加工の糸、
ラメ糸は10/2(20/4と20/3 の中間程度の太さ)です。

大切に染めていますが、手染めなので色ムラがあったり、糸の継ぎ目がある場合があります。
濃い色は色落ちすることが可能性としてございます。

また、染める際の枷により色の違いが見られます。
手染め、手仕事ゆえですが、ご理解いただける方にお求めいただけますと幸いです。


//////////////////////////
The color of Japan, the color of harmony.
I dyed it with such an image.
From this month, it will be handled by a handicraft store in Indonesia,
ajisaidrop's thread has traveled abroad again.
For that reason, I wanted to convey the colors of good old Japan, so I dyed them in ajisaidrop's own way.
In the past, we used to make colors with plants, so I imagined the colors that would come out of dyeing with plants.
I think that I was able to make a set with a strong texture of the thread.
It's 20/4, so it's a recommended thickness for beginners.

20/4 Six types of tiered dyeing.
It is a cotton thread that can be used for a wide range of purposes such as sashiko, kogin embroidery, darning, temari, and embroidery.
Add to Like via app
Reviews

(793)

Shipping method / fee

Payment method
¥2,700 tax included
SOLD OUT